Gain access to all of FORMED's content with these simple steps:
· Visit https://signup.formed.org/
· Enter our parish's zip code
· Enter your name and your email address
St. Wendelin will be traveling to the National Eucharistic Congress in Indianapolis, along with parishioners from All Saints, New Riegel, next summer - July 17-21, 2024. There are just under 30 tickets still available! Please click HERE or stop in the Parish Office for more information about how you can sign up to attend! Please register by September 20th.
MASS & RECONCILIATION TIMES
LORD'S DAY
Saturday (Anticipated): 4:30pm
Sunday: 8:00am*, 11:00am
Fourth Sunday: 12:30pm (Spanish/Español)
WEEKDAY
Tuesday: 5:15pm
Wednesday, Thursday*, Friday: 9:00am
First Saturday: 9:00am
*Livestreamed (No streaming at this time due to camera issue.)
RECONCILIATION AVAILABLE
First Saturday: 8:15-8:50am
Saturday: 3:30-4:20pm
Sunday: 7:00-7:50am & 10:00-10:50am
Tuesday: 4:40-5:10pm
Thursday (Fr. Schock): 11:00am-1:00pm
-Also one hour prior to holy day Masses.
OTHER DEVOTIONS/LITURGIES
ADORATION
Tuesdays: 5:00am-5:00pm
Wednesdays: 6:00pm-11:00pm
Thursdays: 5:00am-9:00am; after Mass-6:45pm
First Sunday: 6:30-7:30pm (Jesus by Candlelight)
VESPERS
First Thursday: 6:30pm (concluding with Benediction)
Tuesdays during Lent
Some Major Feast Days (see bulletin/social media)
MASS RECORDINGS
VIEW MASS RECORDINGS ON YOUTUBE
Click Here to subscribe to our YouTube Channel!
Support St. Wendelin by using the SCRIP/TRIP program!
By purchasing gift cards at face value in the Parish Office, St. Wendelin receives a percentage of each purchase. In addition to supporting St. Wendelin programs, families attending area Catholic schools can use their accounts to supplement tuition costs. This program offers an easy way for you to help the students and your church. For more information, please contact the Parish Office (419-435-6692).
Walk-In Order Form Weekly Order Form
*Weekly order forms must be received in the Parish Office by Mondays at 9:00am.
---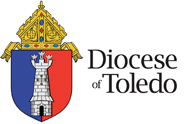 Office of Child & Youth Protection and Victim Assistance
Learn more about the 2023 Annual Catholic Appeal This Is The Day! here: ACAToledo.org.
Watch the ACA Video HERE.