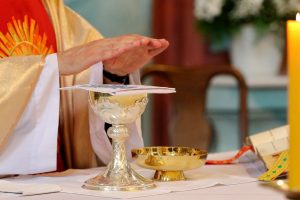 For about a year now, in addition to ringing the Sanctus bells at the elevations of the Host and Chalice, the servers have been ringing the bells at another moment during the Eucharistic Prayer. This occurs when the priest stretches his hands over the gifts of bread and wine. Some may be wondering why they have begun ringing the bells at that moment. This moment in the Eucharistic Prayer is called the epiclesis (ĕpĭKLĒsĭs). This Greek word means "invocation" and it is a specific kind of invocation: a calling down of the Holy Spirit upon the gifts of bread and wine to sanctify them and change them into the Body and Blood of Christ. Pope Benedict says in no. 12:
"With his word and with the elements of bread and wine, the Lord himself has given us the essentials of this new worship. The Church, his Bride, is called to celebrate the eucharistic banquet daily in his memory. She thus makes the redeeming sacrifice of her Bridegroom a part of human history and makes it sacramentally present in every culture. This great mystery is celebrated in the liturgical forms which the Church, guided by the Holy Spirit, develops in time and space. … It is through the working of the Spirit that Christ himself continues to be present and active in his Church, starting with her vital centre which is the Eucharist."
Depending on the Eucharistic Prayer, the epiclesis can be either implicit or explicit. Some prayers explicitly invoke the Holy Spirit and others only have the priest stretch his hands over the gifts. In either case, without the Holy Spirit, the sacrifice of the Mass would not be able to take place and the Church would become non-existent. As Pope Benedict notes at the end of no. 13: "The Spirit invoked by the celebrant upon the gifts of bread and wine placed on the altar is the same Spirit who gathers the faithful into one body and makes of them a spiritual offering pleasing to the Father." As we gather around the Lord's table, may we allow the Holy Spirit to sanctify us and unite us!